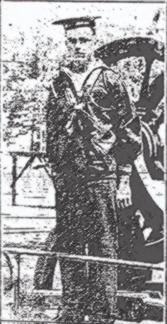 William Jennings Huffines
This noble young man was stricken with Influenza while on board the U. S. S. Kentucky. He grew progressively worse and developed pneumonia Oct. 3rd. He was transferred to the U. S. S. Mercy hospital ship, and continued to grow worse, dieing October 5th at 5 a. m. The remains were shipped home, arriving October 11. Funeral service was held Oct. 12, conducted by W. M. Dycus, with interment in the Draper Cemetery on Wartrace.
The deceased is survived by three sisters and five brothers. Two of his brothers, Cautus and Vester are with the U. S. Army in France. He carried Government insurance to the amount of $10,000.
The following obituary is contributed by a friend.
Bryan Huffines was born August 14th, 1896, and departed this life Sunday Oct. 6th (sic), 1918. Age 22 years, 1 month, and 22 days.
He professed religion at the tender age of 15 with many of his school mates, under the preaching of brother Haile. His profession was of the heavenly kind, that brightens the countenance and make the soul rejoice. But his life was not all that it should have been, but his experience and foretaste of heaven lived with him until his death; until he was reclaimed by his heavenly father.
In his death passes a youth that was innocent, kind and loving who possessed a personality that made him many friends. He was left at 8 years old without a father, and later gave up his mother, and had to face life's battles without the guidance and parental care of father and mother. Yet he met life's responsibilities with a smile and determination to succeed at whatever he undertook. He was fond of home and loved his brothers and sisters, and was always ready to do them a service, and always had a kind word and met them with a smile.
He volunteered his service in behalf of his country June 10th, 1918, and after 4 months service he was promoted from apprentice seaman to second class seaman.
His induction into military service came in a way that it was a shock and sadness to those who loved him. Fate guided his every move, and seemed that fate doomed him to answer his countries call in a pathetic way, not permitting him the happy privilege of receiving the many kind words of encouragement that would have been gladly and affectionately given. He had to take this course alone. Not a word to his lonely heart spoken, no embrace of his youthful form by those he loved, but in the midst of cold hearted strangers, he had to drink of the cup of sorrow and grief. The same cup that his Lord and Master had to drink when He thot that his heavenly father had forsaken him. We know that this must have been his Gethseminea, yet he bore it without a murmur or repine, and went forward to duty in a patriotic and manly way to do his bit for his country and home.
Let it be said in honor and memory to his service in behalf of his country that he has made the supreme sacrifice, by giving up his life. But not without experiencing the thrilling scenes enacted upon the stages of war. He expressed himself in a letter to his sister that he would never be satisfied unless he got to go across, and his death came on his first voyage. He faced once the most dreaded weapon of this world war, the lurking submarine. He felt the same thrill of soul that his two million comrades of arms have felt that have gone across. His ship convoying and protecting his comrades as they were going to the front made him in actual service for his country. Who knows how many times the signal was given to the engineers and firemen to steam up, a submarine is sighted, and by an extra effort on his part may so have exhausted him that he contracted this deadly disease. He gave his life in a heroic and patriotic way and at a time when the service flag at his home was just completed and put on display, united with the other two stars. They only stood for a short time, there three stars symbolizing the three brothers that were united in a service in behalf of their country.
His death coming so soon is almost unbearable, but we weep not as those who have no hope. He left a testimony that brings gladness to our broken hearts. He sent in his last letter a message that will reach some poor soul in sin. He said, "I go to church every Sunday. I am a Christian, you need not worry about me. I mean to do thing that is right, and that is the only way to get thru." In another letter he gave a message in behalf of the church, stating how much he always enjoyed going to church, and that he sure would have been glad to be with us during the meeting at old Campground "for I do enjoy going to meeting." He further stated, "I go every Sunday at the camps. Some of my comrades are very wicked boys, but I don't mean to be led off by them."
His salvation has been brought about by the influence of the church, and by his parental training.
Let us that mourn and weep, take courage and live more holy lives, because we know if we ever see him again, it will be in heaven. He can't come back to us, but we can go to him, where there will be an unbroken family around God's eternal throne.
His home coming was indeed a sad one, because we had kept the home fires burning since his absence. No kind word could he speak, nor smile give, but his spirit will be near beckoning his brothers, sisters, and friends to his Heavenly home.
Let us not wish for him back, because he would not exchange his home for ten thousand worlds like this. Sleep on until the morning of the resurrection, and come forth clad in robes all decked with jewels, rich and rare, we shall join you. What a great and happy meeting when the saints and friends, we there are greeting. Sweet memory of him we pray the live.